11—Jul—2019
Mitwirkung bei Hilton-Zukunftsstudie – Olaf Kitzig gibt visionäre Inputs! 
Autonome Reisekapseln, Miniatur-Ökosysteme, Zimmerservice über 3D-Druck, hyper-personalisierte Räume, mehr Einsatz von KI-Systemen in der Hotelbranche – das und vieles mehr soll laut der Studie des Hotelriesens Hilton die Hotelbranche in den nächsten 100 Jahren revolutionieren.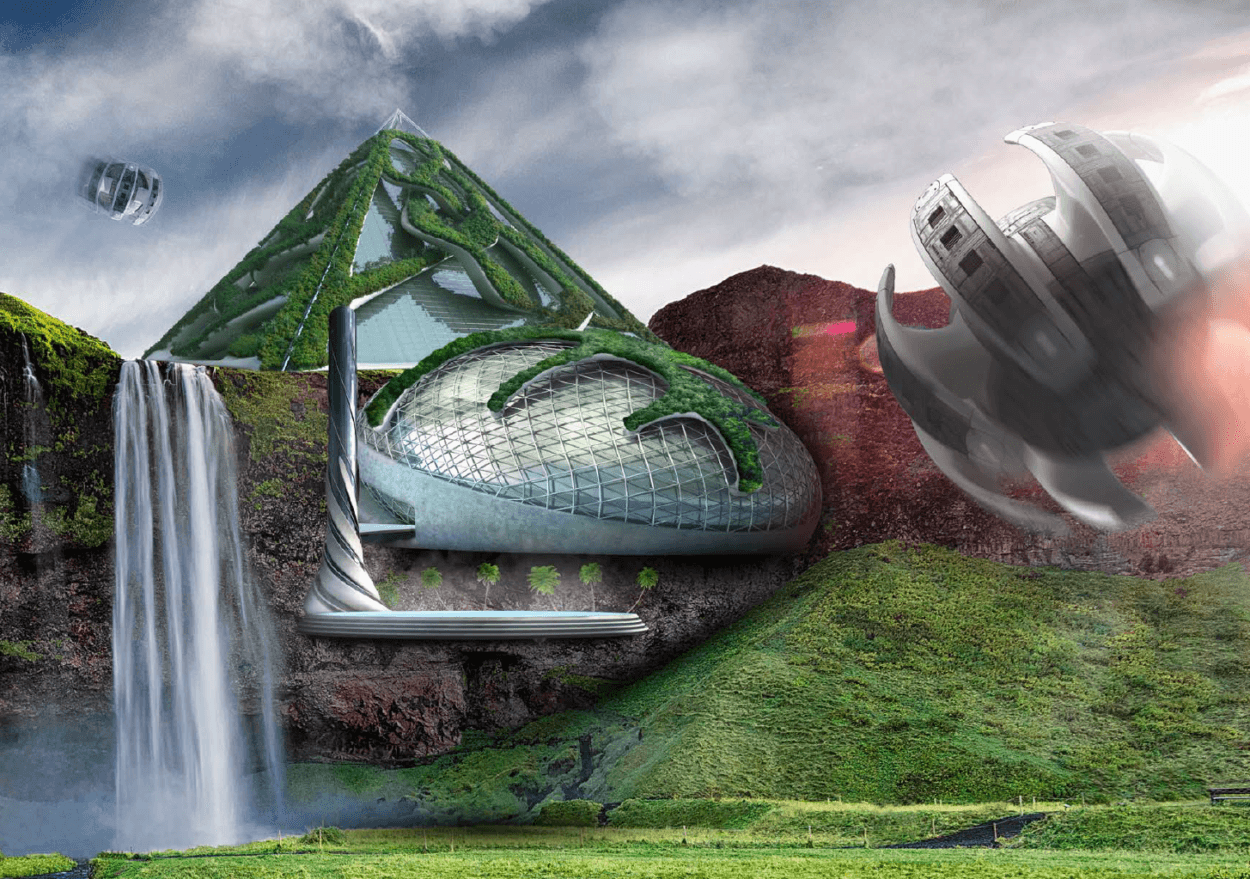 (Bild: Hilton-Studie 2019)
"Our vision of the Hotel of 2119 [is a vision] from technology and design, to food and drink, sustainability and wellness. We've explored everything from guest experience to the role of our Team Members and the relationship our hotels will continue to have with the communities in which they operate." (Hilton Präsentation "Checking into 2119")
Im Fokus der Studie stehen zwei große Themengebiete: Individualisierung und Nachhaltigkeit. Bereits bei der Neukonzeptionierung eines internationalen Prototyps für Zimmer- und Lobbydesign, nahmen unsere Innenarchitekten in punkto individualisiertes Hotelkonzept einen prägenden Einfluss auf die Planung zukünftiger Hampton by Hilton Hotels. Nun gibt Olaf Kitzig, Founder und CEO von Kitzig Design Studios, einen weiteren wichtigen Input für die Realisierung zukünftiger Kooperationen: "In 100 Jahren werden wir akribisch genau darauf achten, welche Ressourcen wir zum Bau unserer Hotels verwenden. Aus den Meeren gefiltertes Plastik und recycelte Abfälle werden gängige Baustoffe sein, da technische Errungenschaften uns immer innovativere Wege aufzeigen werden, unserem Müll neuen Mehrwert zu geben."
Die Hilton-Zukunftsstudie stellt nicht nur ein phantasievolles Gedankenschloss auf. Vielmehr will sie richtungsweisende Inputs bei der nachhaltigen Neuplanung und individualisierenden Konzeptionierung von Hotels und Serviceangeboten rund um den Gast der Zukunft geben.
Hier geht's zur Studie von Hilton:
Über Kitzig Interior Design GmbH
Die Kitzig Interior Design GmbH wurde 1998 von Olaf Kitzig in Lippstadt gegründet und setzt seit über 20 Jahren erfolgreich Innenarchitektur- und Architekturprojekte sowohl im Inland, als auch im Ausland um. Der Fokus des Kreativbüros liegt im Bereich Hotellerie, Gastronomie, Office und Retail. 2001 eröffnete das zweite Büro in Bochum, dem 2011 ein weiteres in München folgte. Mit der Neueröffnung des Büros in Düsseldorf 2018 ist Kitzig Interior Design in insgesamt 4 deutschen Städten niedergelassen. Jährlich werden über 80 Interior Projekte von Kitzig gesteuert. Mittlerweile beschäftigt Olaf Kitzig in allen drei Kitzig Design Studios – Kitzig Interior Design, Kitzig Identities und Kitzig Details – rund 80 Mitarbeiter.
Internationale Auftraggeber wie Lufthansa, Hilton London, Mövenpick und viele weitere zählen bereits seit Jahren zum Kundenstamm. Zu den Projekten können zahlreiche internationale und nationale Konzeptionen, wie das 7-Pines Luxusresort auf Ibiza, die Lufthansa Lounge in Mailand-Malpensa, diverse Hotelprojekte für Lindner Hotels AG neue Messekonzepte der Messe München GmbH, eine umfassende Sanierung des Fünf-Sterne Luxushotels Schloss Roxburgh in Schottland oder die völlige Neukonzeption der DB Information 4.0 (verteilt auf 82 Bahnhöfen deutschlandweit) gezählt werden.
About Hilton
Hilton (NYSE: HLT) is a leading global hospitality company with a portfolio of 17 world-class brands comprising more than 5,700 properties with more than 923,000 rooms, in 113 countries and territories. Dedicated to fulfilling its mission to be the world's most hospitable company, Hilton earned a spot on the 2018 world's best workplaces list, and has welcomed more than 3 billion guests in its 100-year history. Through the award-winning guest loyalty program Hilton Honors, more than 89 million members who book directly with Hilton can earn Points for hotel stays and experiences money can't buy, plus enjoy instant benefits, including digital check-in with room selection, Digital Key, and Connected Room. Visit newsroom.hilton.com for more information, and connect with Hilton on Facebook, Twitter, LinkedIn, Instagram, and YouTube.