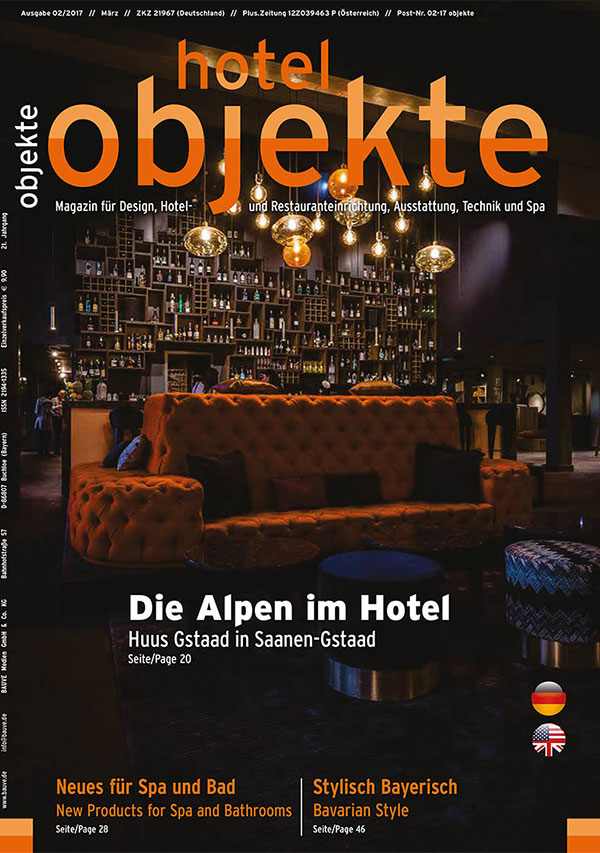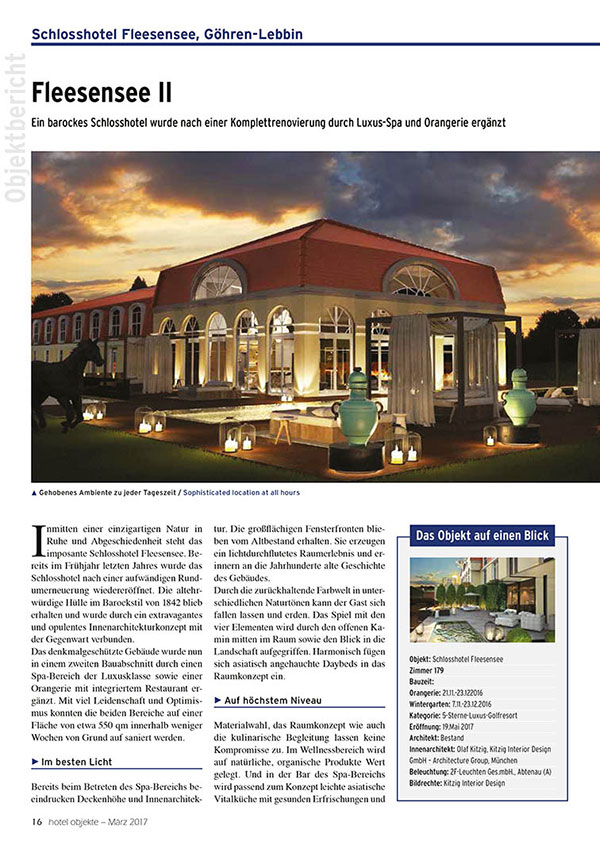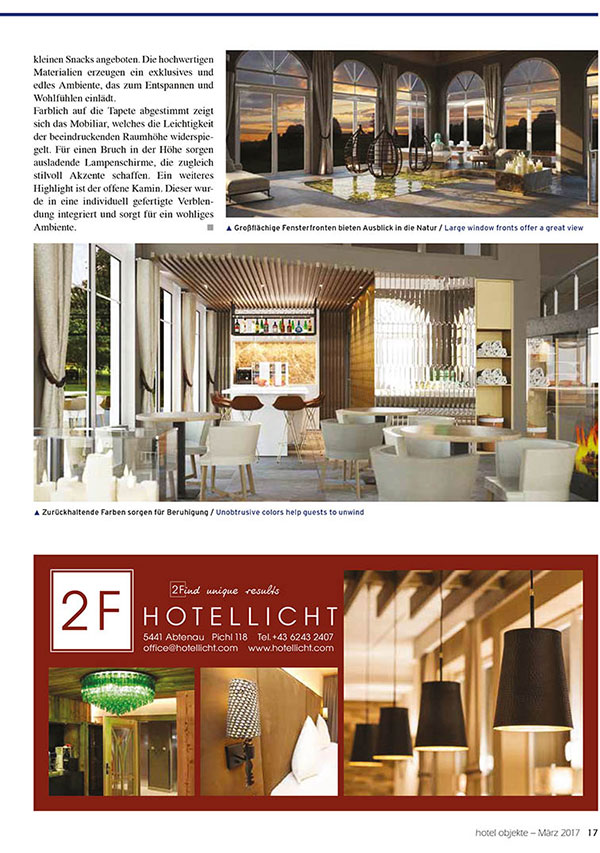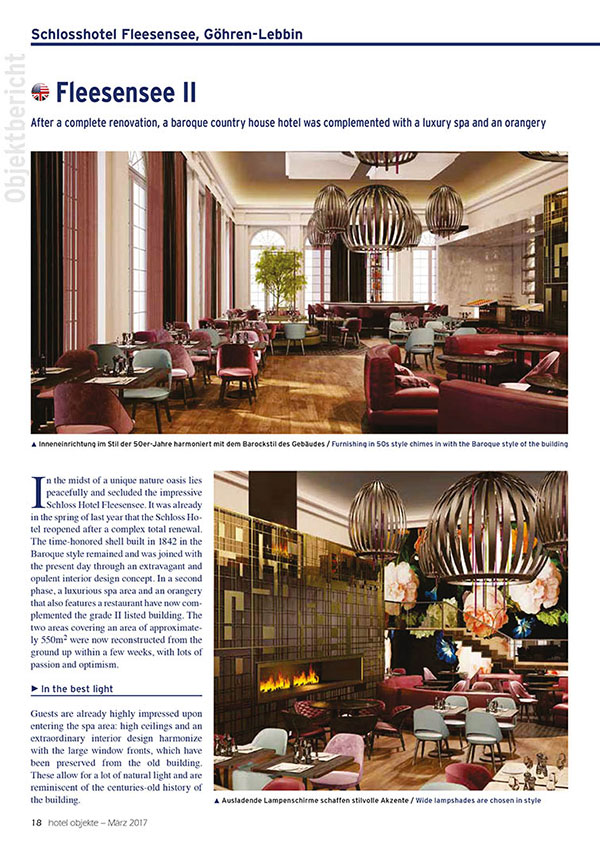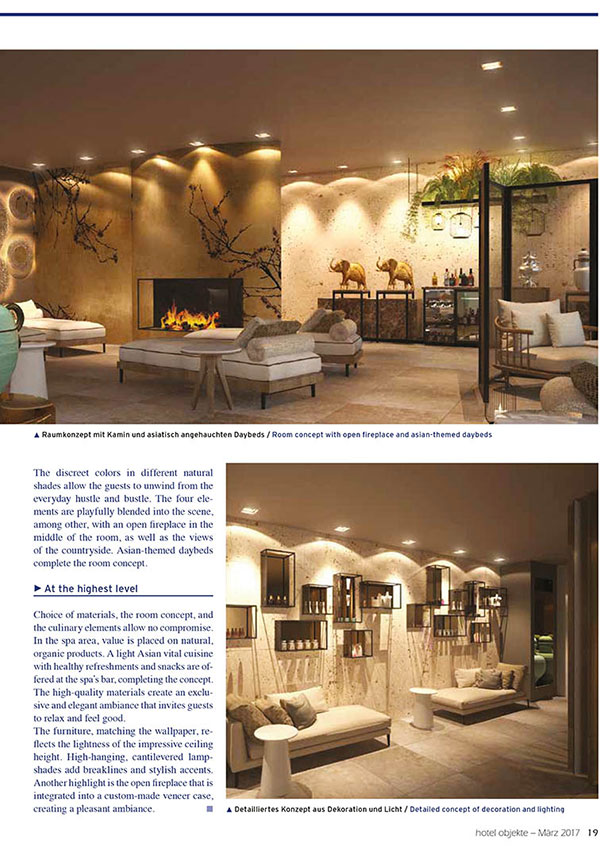 Fleesensee II
After a complete renovation, a baroque country house hotel was complemented with a luxury spa and an orangery
In the midst of a unique nature oasis lies peacefully and secluded the impressive Schloss Hotel Fleesensee. It was already in the spring of last year that the Schloss Hotel reopened after a complex total renewal. The time-honored shell built in 1842 in the Baroque style remained and was joined with the present day through an extravagant and opulent interior design concept.
In a second phase, a luxurious spa area and an orangery that also features a restaurant have now complemented the grade II listed building. The two areas covering an area of approximately 550 sqm were now reconstructed from the ground up within a few weeks, with lots of passion and optimism.
In the best light
Guests are already highly impressed upon entering the spa area: high ceilings and an extraordinary interior design harmonize with the large window fronts, which have been preserved from the old building. These allow for a lot of natural light and are reminiscent of the centuries-old history of the building.
The discreet colors in different natural shades allow the guests to unwind from the everyday hustle and bustle. The four elements are playfully blended into the scene, among other, with an open fireplace in the middle of the room, as well as the views of the countryside. Asian-themed daybeds complete the room concept.
At the highest level
Choice of materials, the room concept, and the culinary elements allow no compromise. In the spa area, value is placed on natural, organic products. A light Asian vital cuisine with healthy refreshments and snacks are offered at the spa's bar, completing the concept. The high-quality materials create an exclusive and elegant ambiance that invites guests to relax and feel good.
The furniture, matching the wallpaper, reflects the lightness of the impressive ceiling height. High-hanging, cantilevered lampshades add breaklines and stylish accents. Another highlight is the open fireplace that is integrated into a custom-made veneer case, creating a pleasant ambiance.
hotel objekte – Magazin für Design, Hotel- und Restauranteinrichtung, Ausstattung, Technik und Spa
03 | 2017
Buchloe, Germany
Publisher https://www.bauve.de/