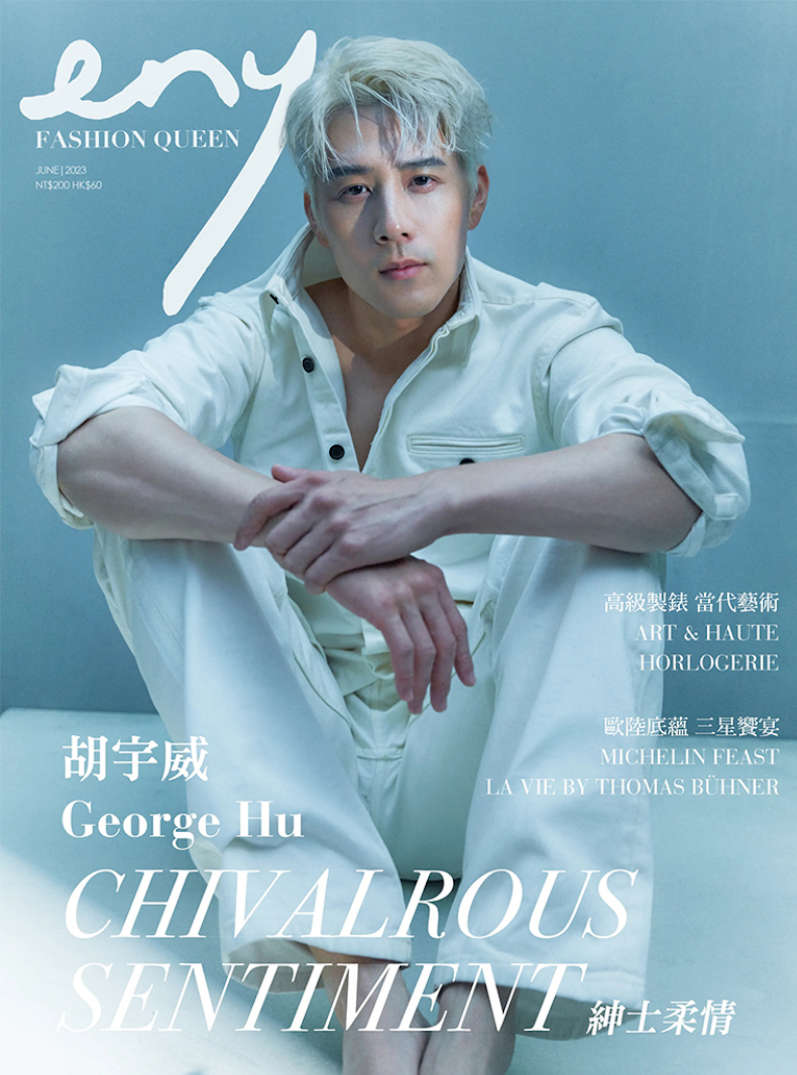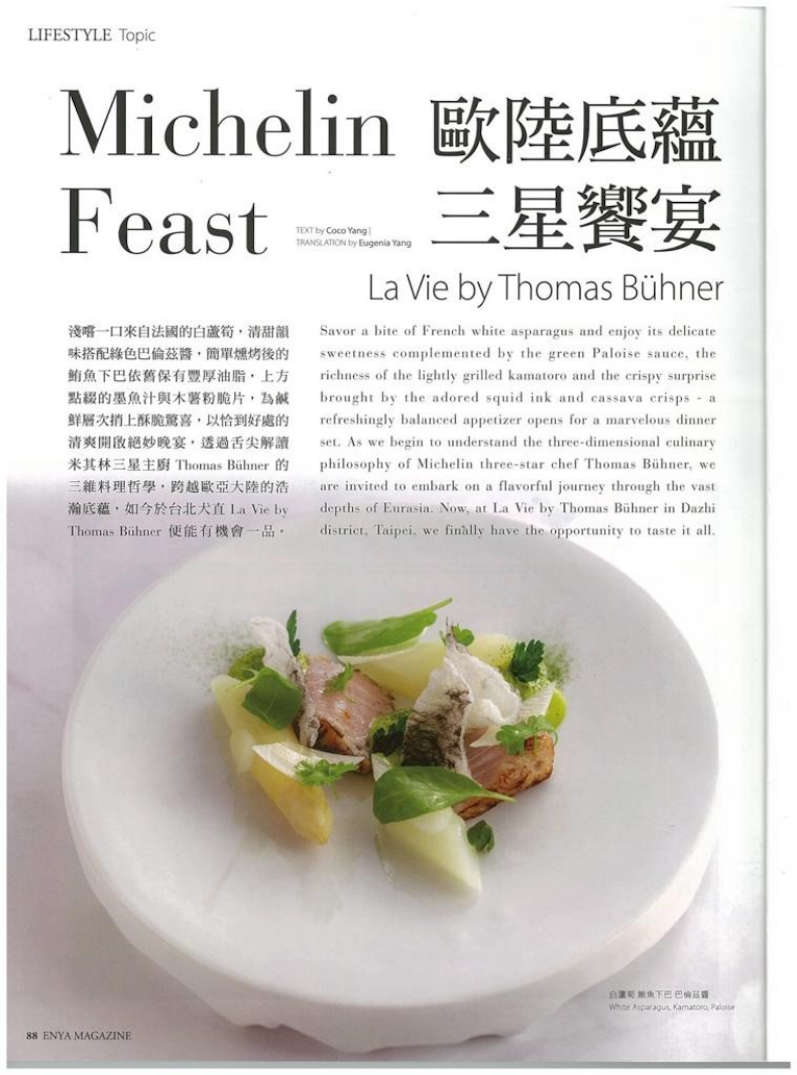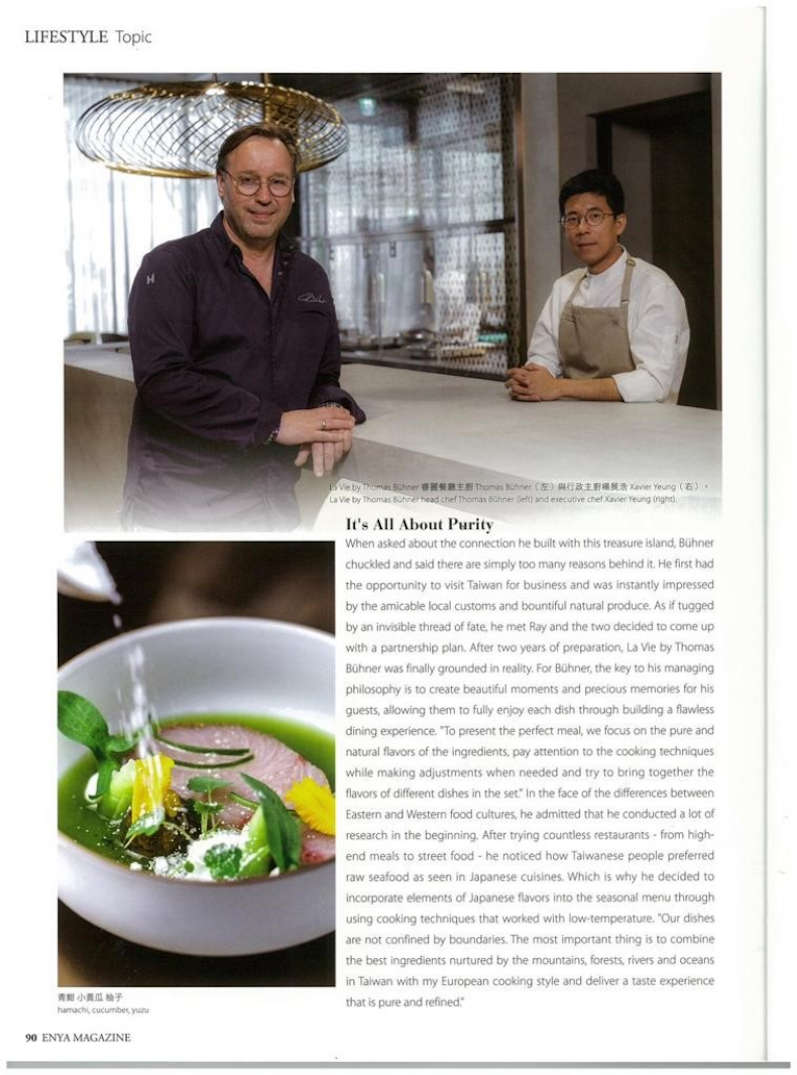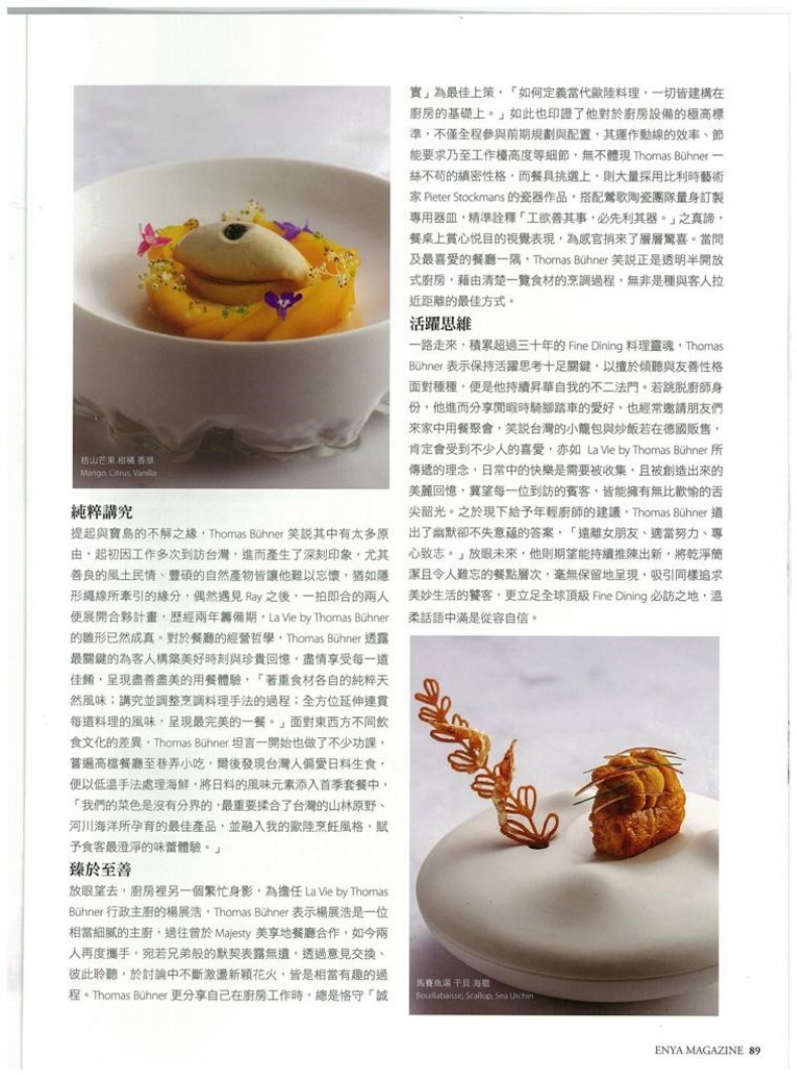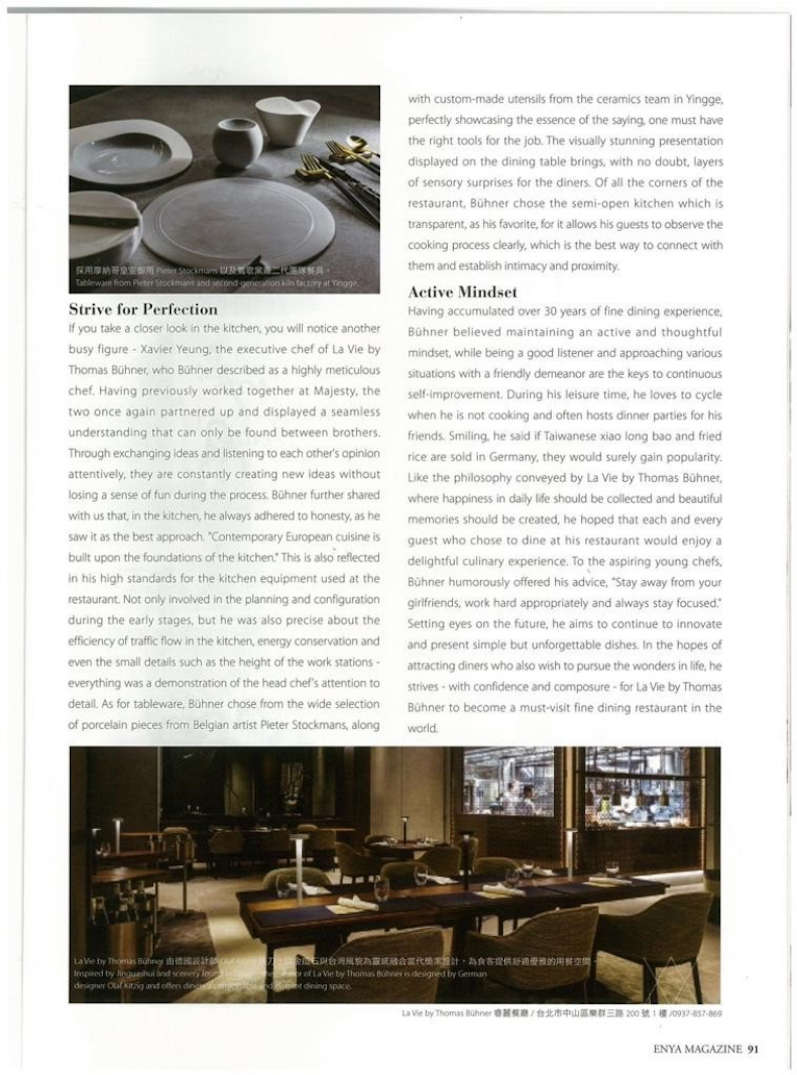 La Vie von Thomas Bühner Chefkoch Thomas Bühner: Ein kontinentales Festmahl mit drei Sternen
Savor a bite of French white asparagus and enjoy its delicate sweetness complemented by the green Paloise sauce, the richness of the lightly grilled tuna jowl and the crispy surprise brought by the adored squid ink and cassava crisps – a refreshingly balanced appetizer opens for a marvelous dinner set. As we begin to understand the three-dimensional culinary philosophy of Michelin three-star chef Thomas Bühner, we are invited to embark on a flavorful journey through the vast depths of Eurasia. Now, at La Vie by Thomas Bühner in Dazhi district, Taipei, we finally have the opportunity to taste it all.
It's All About Purity
When asked about the connection he built with this treasure island, Bühner chuckled and said there are simply too many reasons behind it. He first had the opportunity to visit Taiwan for business and was instantly impressed by the amicable local customs and bountiful natural produce. As if tugged by an invisible thread of fate, he met Ray and the two decided to come up with a partnership plan. After two years of preparation, La Vie by Thomas Bühner was finally grounded in reality. For Bühner, the key to his managing philosophy is to create beautiful moments and precious memories for his guests, allowing them to fully enjoy each dish through building a flawless dining experience. "To present the perfect meal, we focus on the pure and natural flavors of the ingredients, pay attention to the cooking techniques while making adjustments when needed and try to bring together the flavors of different dishes in the set." In the face of the differences between Eastern and Western food cultures, he admitted that he conducted a lot of research in the beginning. After trying countless restaurants – from high-end meals to street food – he noticed how Taiwanese people preferred raw seafood as seen in Japanese cuisines. Which is why he decided to incorporate elements of Japanese flavors into the seasonal menu through using cooking techniques that worked with low-temperature. "Our dishes are not confined by boundaries. The most important thing is to combine the best ingredients nurtured by the mountains, forests, rivers and oceans in Taiwan with my European cooking style and deliver a taste experience that is pure and refined."
Strive for Perfection
If you take a closer look in the kitchen, you will notice another busy figure – Xavier Yeung, the executive chef of La Vie by Thomas Bühner, who Bühner described as a highly meticulous chef. Having previously worked together at Majesty, the two once again partnered up and displayed a seamless understanding that can only be found between brothers. Through exchanging ideas and listening to each other's opinion attentively, they are constantly creating new ideas without losing a sense of fun during the process. Bühner further shared with us that, in the kitchen, he always adhered to honesty, as he saw it as the best approach. "Contemporary European cuisine is built upon the foundations of the kitchen." This is also reflected in his high standards for the kitchen equipment used at the restaurant. Not only involved in the planning and configuration during the early stages, but he was also precise about the efficiency of traffic flow in the kitchen, energy conservation and even the small details such as the height of the work stations – everything was a demonstration of the head chef's attention to detail. As for tableware, Bühner chose from the wide selection of porcelain pieces from Belgian artist Pieter Stockmans, along with custom-made utensils from the ceramics team in Yingge, perfectly showcasing the essence of the saying, one must have the right tools for the job. The visually stunning presentation displayed on the dining table brings, with no doubt, layers of sensory surprises for the diners. Of all the corners of the restaurant, Bühner chose the semi-open kitchen which is transparent, as his favorite, for it allows his guests to observe the cooking process clearly, which is the best way to connect with them and establish intimacy and proximity.
Active Mindset
Having accumulated over 30 years of fine dining experience, Bühner believed maintaining an active and thoughtful mindset, while being a good listener and approaching various situations with a friendly demeanor are the keys to continuous self-improvement. During his leisure time, he loves to cycle when he is not cooking and often hosts dinner parties for his friends. Smiling, he said if Taiwanese xiao long bao and fried rice are sold in Germany, they would surely gain popularity. Like the philosophy conveyed by La Vie by Thomas Bühner, where happiness in daily life should be collected and beautiful memories should be created, he hoped that each and every guest who chose to dine at his restaurant would enjoy a delightful culinary experience. To the aspiring young chefs, Bühner humorously offered his advice, "Stay away from your girlfriends, work hard appropriately and always stay focused." Setting eyes on the future, he aims to continue to innovate and present simple but unforgettable dishes. In the hopes of attracting diners who also wish to pursue the wonders in life, he strives – with confidence and composure – for La Vie by Thomas Bühner to become a must-visit fine dining restaurant in the world.